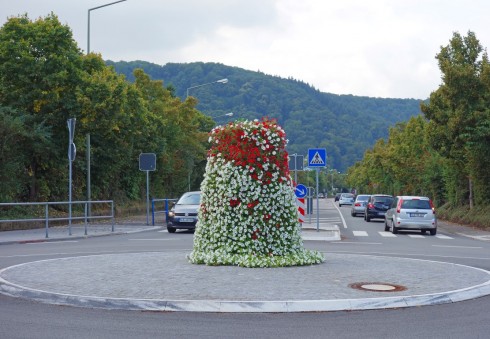 Dillingen is a small town in western Germany that is famous for its geographical localization, near the border of the natural landscape park Saar-Hunsrück. There's also one of the most spectacular event venues in Germany, the Lockschuppen, which was renovated in 2004.
The production and steelworks have a long history in Dillingen. Many generations of citizens may admit their contribution in building this tradition. Thanks to them and creative local artists, the town is full of steel monuments, sculptures and other pieces of art.
The sightseeing of this little German town is a pure pleasure for the fans of antic history and nature. The remarks of the Romanian culture and huge vertical gardens in the city centre are just magnificent. Do you know that these green walls are 10 m high? The concept of a green town obliges the municipal authorities to create floral decorations not only in the heart of Dillingen but also in its suburbs.
Problem

Szare rondo

Brak dostępu do podłoża
Ruchliwa ulica

Montonne otoczenie
Dillingen couldn't be proud of its not so attractive town square and grey streets. Nature wasn't popular there due to the lack of access to the soil and problematic plant care.
The necessity of the disassembly of urban decorations for a winter season excluded the use of traditional heavy planters. This was the reason for the lack of colourful ornaments near the streets and in the city centre.
Solution
The example of the German town of Dillingen shows how the arrangement of a roundabout can be a creative task. The application of the Flower Towers H2000 allowed to decorate a crossroads of two streets. Thanks to the Flower Towers planted with bright flowers, this place became more recognizable.
The appearance of the construction made the centre of Dillingen more aesthetic. The Flower Towers along with local planters created a wonderful arrangement of the most representative place. This action also proved how important the nature is for the town.
The plants near street should be resistant to intense exposure to sunlight, seasonal drought and pollution. They need to be easy to maintain with bright leaves or flowers because then they are visible to drivers at night. The best types are tagetes, begonias, narcissus, dahlias, tulips and surfinias.
Google Street View
See Dillingen in flowers