population 65 828
civil rights since 1297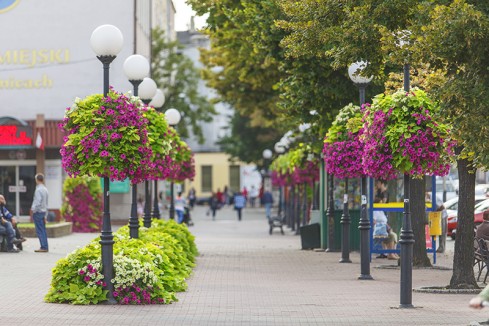 Pabianice belongs to the urban complex of Lodz. Similarly to this city, Pabianice is known as the town of three nations. Since the 19th century, this has been home for the Poles, the Germans and the Jews.
One of the most characteristic buildings in Pabianice is the neo-gothic building of Krusche & Ender Factories in Zamkowa Street that still reminds of industrial traditions of the town. This is the place where the models W600 were fixed in 2014.
Pabianice won the contest for the most beautifully decorated city in Poland in 2014 organised by Terra Group. The effect of flowers planted in Flower Towers was extraordinary.
The municipal authorities of Pabianice have bought Terra Flower Towers in order to make the town and the old market more beautiful.
No access to natural ground in the city centre is a common problem in many Polish cities. It seems to be difficult to plant flowers without ground, so urban space is lacking in nature. It doesn't have to be like that!
Problem

No access to the ground

A colourless avenue

Monotonous pavement

No access to the nature
The monotonous pavement of Zamkowa Street seemed to be the most problematic place. This wide area needed a proper decoration with flowers. However, there was a difficult access to natural ground due to the cobblestone. In result, the centre of Pabianice wasn't pleasing to the eye and deprived from nature, so important to comfortable functioning in the town.
Due to the fact that this avenue is near the busy street, it was impossible to provide big Flower Towers. They could limit the visibility of drivers and pedestrians.
Solution
In order to provide the nature into Zamkowa Street, the models W600 designed for lamps have been chosen. Due to the method of fixing, it was able to save the area on the pavement, and the visibility of drivers and pedestrians wasn't reduced.
The constructions on lamps have turned into floral spheres just in short time. The result was an extraordinary effect of Pabianice full of flowers.
The constructions W 600 are responsible for the interesting effect that has been achieved in Pabianice. Thanks to different systems of fixing, these models are suitable for every kind of lamp.
Google Street View
See Pabianice in flowers