population 12 341
civil rights since 1260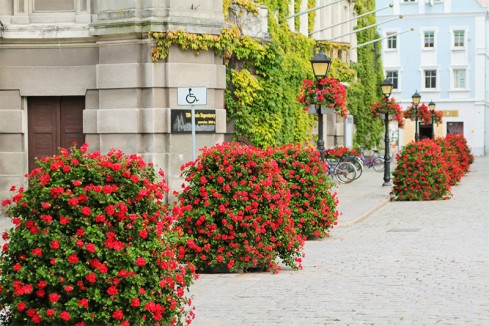 Szprotawa is a town in Lubuskie state about 50 km south of Zielona Góra. There's only 60 km to Germany.
Due to two rivers, the town is often called the Little Venice. The centre is also interesting. There is a remarkable town hall with two towers from 14th century. There are also old defensive walls that are worth seeing.
The old market in Szprotawa is a gem of historic architecture. The former street system has been preserved in almost 100%. The town hall complements the unique character of the centre.
Flower Towers (model H1200) appeared near the town hall in 2012 and created a nice contrast with the facade of the building. The street lamps in the heart of the town were also decorated with hanging models W600. They allowed to enrich the area above pavements and to make the old town of Szprotawa more attractive.
The municipal authorities of Szprotawa have bought Terra Flower Towers in order to make the town and the entrance to the town hall more beautiful.
Problem

Grey space

No access to the ground

An ordinary square

An ordinary town square
The town square in Szprotawa is covered with the cobblestone, so there's no place for natural ground. This obstacle for flower planting was the reason why the old market was almost entirely dominated by greyness.
Solution
The problem of the grey town square in Szprotawa has been solved thanks to Flower Towers model H1200. The construction W600 for street lamps that allowed to decorate the urban space above pedestrians' heads. Such an arrangement has turned the city centre into a charming place worth visiting.
Google Street View
See Szprotawa in flowers