population 9 578
civil rights since 1458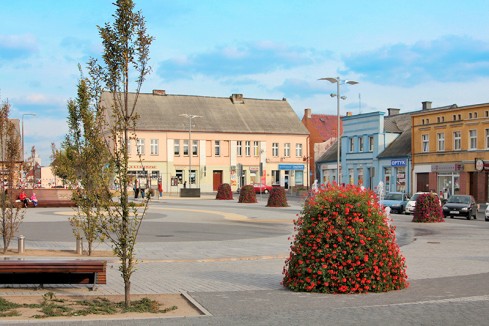 Szubin was the winner of the 1st edition of the Terra Flower Power contest for the most beautifully flowered city in Poland in 2012. The involvement of citizens in voting was the proof that the actions of the municipal authorities were well received.
Flowers in the city have a positive influence on citizens' lives. They spend more time outside among nature, so the town square with the fountains and the Flower Towers has become the city centre once again.
The municipal authorities in Szubin know how to invest in urban greenery, so they include next plantings in their future plans for city development. The citizens take an active part in these actions by telling which places need to be renovated.
I'm an aesthete. I don't buy only the product but the effect that it gives. A colourful Flower Tower was something I expected.
Problem

Empty space

No colour

An ordinary square

The proximity to the street
The renovated old market square required some details to be finished. The grey town square with the fountain looked modern but still it was lacking in colours. Additionally, such a bleak effect was intensified by cars on parking lots around the place.
The aim of the renovation was giving the citizens back their space. Despite that, the centre has still seemed to be monotonous. The greenery around the old market was overwhelmed by such a huge square.
Solution
The municipal authorities in Szubin chose the model H1200. They successfully separated the town square from the street and parking lots. Thanks to it, the whole area was transformed into a colourful and friendly place.
Colourful flowers in the city centre encourage the citizens to visit it more often. This place has become more crowded especially in the evenings when the illumination light show takes place.
The modern town square in Szubin is a place without colourful plants. The Flower Towers are a good addition that warms up the image of such towns as Szubin and provides greenery even if there is no natural ground.
Google Street View
See Szubin in flowers