population 1 212 935
civil rights since 1376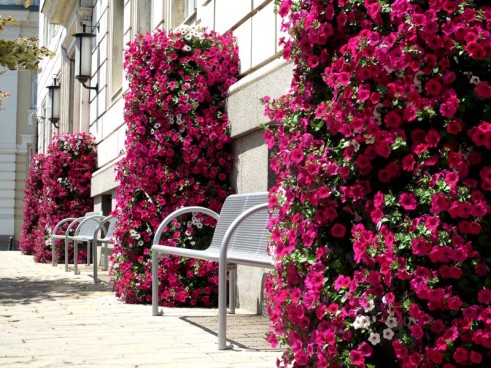 Sofia, the capital city of Bulgaria, is one of the most popular holiday destinations. This cultural centre is also the example of a well-arranged urban space with Terra Flower Towers.
The city centre of Sofia has been decorated with flowers since 2012. It can be said that the appearance of these floral ornaments has become a tradition to the citizens. Various models of Flower Towers can be seen in the most representative places of the city such as the Presidential Palace.
Sofia is a mix of cultures. At first the architecture in the centre was maintained in the oriental style. From 14th to 19th century the most citizens of Bulgaria came from Turkey. Many orthodox churches, which are worth visiting, are the mark of the Russian culture. Tourists should be also interested in beautiful decorated bathhouses.
Thanks to the purchased flower towers, we managed to decorate/arrange pedestrian routes in an attractive and interesting way. We appreciate the fact that your products allow to decorate public space safely.
Problem

A facade of a building

No access to the ground

An ordinary square

Empty space
The Bulgarians, similarly to the Poles, love nature and appreciate its appearance in public spaces. It's worth mentioning that Sofia has familiar problems to others cities, for example cobblestone and concrete squares. Their excess make every place less attractive to not only tourists but also to the citizens.
Solution
The entrance to one a historical building has been decorated with the models H2000 ½. These high constructions fit a facade perfectly so it was the best choice. The Flower Towers have also created an interesting composition with benches. What is most important, the pedestrian zone has remained spacious.
To decorate the wide place in front of the Presidential Palace, the municipal authorities have chosen the huge models H2400 planted with colourful flowers. Thanks to them, the problem of grayness was solved. The smaller models H 1200 have been located nearby as well.