population 11 964
civil rights since 1245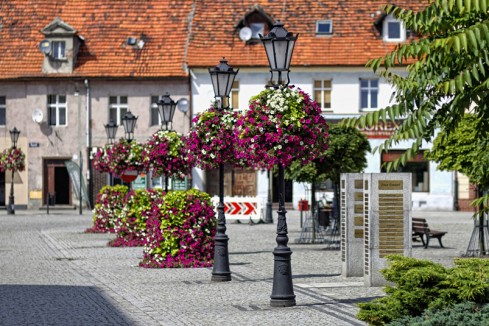 Milicz is a charming town in south-western Poland. The name of this place probably comes from the Polish word "miły" which means "nice". We cannot deny – it must be true!
The beautiful and historic old town is one of the most representative places in Milicz. Thanks to its architecture (remaining almost in a perfect shape), the town is on the list of National Heritage Board of Poland, an institution responsible for the objects crucial to the Polish cultural heritage. Tourists can see the palace complex and the park from the 18th century.
The surroundings of the town are visited in crowds, not only by ornithologists but also the fish gourmets. The famous Milicz ponds are scattered on the surface of 77 km². They are the biggest water reservoirs of this kind in Europe. The huge number of Christmas carps comes from this place. The tradition of fish breeding is over 700 years old. There is also one of the largest reserves in Poland and in Europe.
The cobblestoned places make planting impossible but the city centres can still be full of flowers. The best solution is the hanging model of Flower Towers. When they're planted, the constructions look like floral balls. Thanks to different types of fixing, they can be fixed to every street lamp.
Problem

An ordinary town square

Grey space

No access to the ground

No access to the nature
The town square was dominated by the greyness of wide pavements. Although this place became functional, it was deprived of colourful and natural elements. No access to soil meant no trees, shrubs and flowerbeds that could blossom during hot seasons. The Flower Towers occurred to be the best solution.
Solution
The municipal authorities of Milicz decided on two models of the Flower Towers: the hanging W600 and the standing H1200. All the constructions were planted with purple and cream surfinias. The urban space became colourful and friendly.
The flower arrangement in Milicz turned out to be a huge success thanks to the appropriate choice of plants. Purple and white pelargonium with bright ipomoea created a strong contrast with grey cobblestone. The cascade system provided perfect growing conditions for flowers.
Google Street View
See Milicz in flowers