population 119 023
civil rights since 1323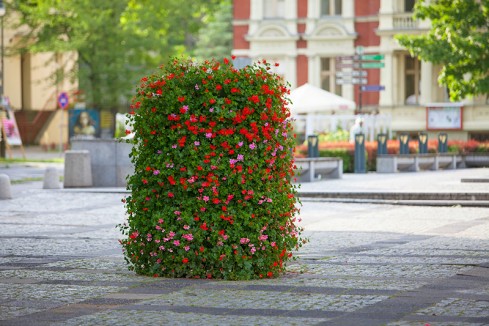 It's called the city of vine… Because this is the place where the old wine-making tradition has reborn, once so carefully nurtured. Nowadays Zielona Góra is a town which name ("Green Mountain") reflects its looks. This city resemblances a glade thanks to being surrounded by forests.
Although estates in Zielona Góra are covered with greenery and forests, the centre is lacking in it. This is the reason why municipal authorities have chosen Terra Flower Towers to change it. Three kinds of models have appeared in different places making urban space greener effectively.
The places are crowded visited everyday by inhabitants, so they needed to change their appearance. Heroes Square, Kupiecka Street and the square under the poplars were positively transformed thanks to colourful flowers.
Problem

An ordinary town square

No access to the ground

Greyness around the monument

A problematic place
Kupiecka Street in Zielona Góra is a much frequented urban track that connects two ends of the downtown. However, there was no greenery through all its length. Small flowerbeds were planted with minor flowers but it wasn't enough. A similar situation took places at the square under the poplars and around the monument on the Heroes Square in the very heart of the city.
Solution
The municipal authorities have decided to use a row of dozens of lamps and have had models W600 designed for this purpose hanged on them. The flower version A110 (surfinia petunia and sweet potato) effectively raised the level of aesthetics on Kupiecka Street. Inhabitants could pass by surrounded by nature.
Flower Towers H2000 appeared on Heroes Square, where they could be a whole-year decoration for the monument. Their presence solved the problem of greenery on a large scale and perfectly corresponded with the trees around. Red and pink pelargonium plants were distinguished on a green background.
Wiszące Konstrukcje Kaskadowe W600 są dostępne w trzech wersjach. Każda z nich po ukwieceniu przemienia się w misę pełną kwiatów lub kwieciste kule. Przygotowaliśmy różne typy mocowań, dzięki czemu dekorację dopasujesz do każdego rodzaju latarnii miejskiej.
Google Street View
See Zielona Góra in flowers