population 97 676
civil rights since 1291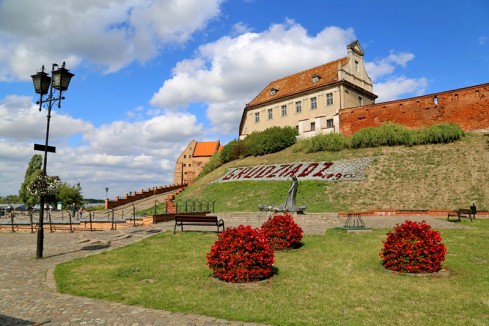 Grudziądz is located in northern Poland on the right bank of the Vistula River. Despite the turbulent history, nowadays the town can boast attractive monuments and diversified architecture.
The heart of Grudziądz is the town square full of beautiful tenement houses that were rebuilt in the Baroque style after war. There is one of many monuments in the central part of old market, in honor of "Polish Soldier", that was renovated in 2010. It's been surrounded by Flower Towers since 2014.
Any post card from Grudziądz cannot exist without the picture of 700-year-old ruins of the Teutonic Knights' castle, defensive walls and the Water Gate from the beginning of 14th century. This is the place where another crucial symbol of the town is seen - the monument of a lancer with a girl. Due to problematic space and a difficult access to the ground, municipal authorities have decided to decorate this areas with Flower Towers H1200 ½.
Problem

A problematic place

Greyness around a monument

An ordinary town square

No access to the nature
The cobblestone town square in Grudziądz was aesthetic and functional but without nature. The hard ground limited the possibility of flower planting in a traditional way, so the heart of the town was monotonous and seemed to overwhelm surroundings. The architecture of the centre required a colourful accent that would highlight its charm and reduce the greyness around.
The historic part of the town includes defensive walls and the castle that is still visited by inhabitants, tourists and fans of history. However, there were no elements that would highlight the importance of those places. The introduction of plants was difficult due to no access to the ground and problematic surroundings of monuments.
Solution
The providing of Flower Towers to the centre of Grudziądz has allowed to eliminate the most important problems of this area – no natural ground and the difficult access to water. In this way the town square has become attractive despite the cobblestone surface, and what is more, the area of the monument of the Polish Soldier has been properly highlighted.
Ancient defensive walls and castle ruins have also become beautiful thanks to flowers. Flower Towers H1200 ¼ have been adjusted to places that are difficult to access, for example corners of fortifications. Now this tourist attraction have become even more impressive.
The reason for such an attractive effect in Grudziądz is the cascade system. This patent and innovative solution improves the quality of planting. The secret of our success is the lack of bottom on particular levels of constructions, so the rooting system of a flower has ideal grow conditions and the optimal amount of water and air.
Google Street View
See Grudziądz in flowers